If you want to use crypto you are first going to require a crypto wallet. But exactly what is a crypto wallet and how does it work? In this post we will explain what a crypto wallet is and the different types of crypto wallet you can use.
What Is A Crypto Wallet?
A crypto wallet is different to a regular wallet you use to hold your cash – it does not hold your cryptocurrency. Cryptocurrencies are stored on a database known as a blockchain which can only be accessed with your private key. A crypto wallet is used to securely store your private keys that are in turn used to access your cryptocurrencies and other blockchain based assets such as NFTs.
Your private keys are extremely important as they prove your ownership over your cryptocurrency and allow you to carry out transactions. If you lose these keys you won't be able to access your digital assets. And if somebody else gets access to your keys they can take full control of your assets. This is why wallets can provide a safe and secure storage solution for your passkeys.
There are several different types of crypto wallets available, each with their own pros and cons. They can be classified into two types – hardware wallets and software wallets.
A hardware wallet is a physical device that connects to your computer. Software wallets can include web-based, mobile or desktop wallets. We will look at some of the main ones below.
Register a free Coinbase account here to receive a $10 (or $10 equivalent of your own currency) bonus when you buy or sell $100 worth of cryptocurrency!
What Are The Different Types Of Crypto Wallet?
There are lots of different types of crypto wallet, some free and others paid for, each offering something different. Which type of wallet is right for you?
Paper Wallets
A paper wallet is not really a wallet at all – as the name indicates it is usually a case of writing down your passkeys on a physical piece of paper and storing it somewhere safe. As this is not stored digitally it does make it harder for others like hackers to access. However it does have a greater risk of being lost and is less convenient than being stored digitally.
This method doesn't cost anything but is the least secure and is not recommended.
Hardware Wallets
Hardware wallets are usually small external USB devices that connect to your computer and are a type of cold storage. The benefit of these is that they offer a good balance between convenience and security. As they are physical wallets that need storing when not in use the device itself could be lost.
Although hardware wallets are more secure they can also be quite costly to purchase.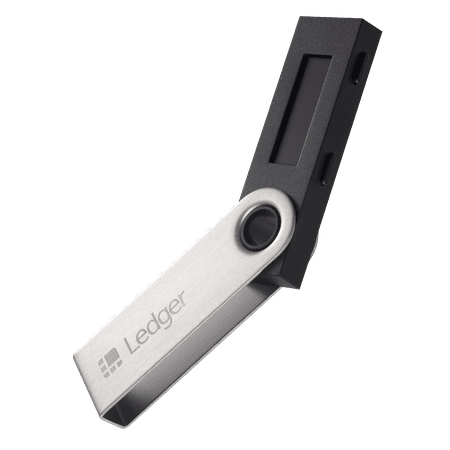 Ledger Nano S Crypto Currency Hardware Wallet
Ledger Nano S is a Bitcoin, Ethereum and Altcoins hardware wallet, based on robust safety features for storing cryptographic assets and securing digital payments. It connects to any computer (USB) and embeds a secure OLED display to double-check and confirm each transaction with a single tap on its side buttons.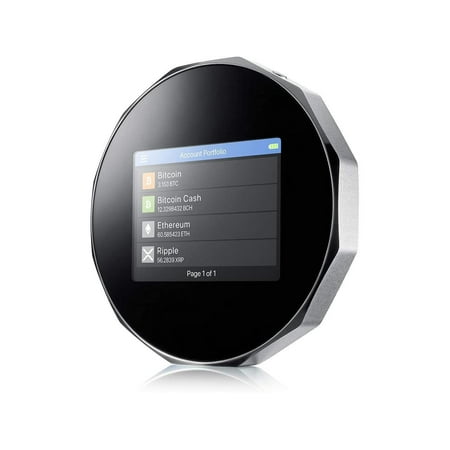 SecuX V20 Crypto Hardware Wallet for Computer & Mobile User
SecuX V20is a cryptocurrency ultra-secure wallet thatsupportsBitcoin BTC, BCH, ETH, LTC, XRP, BNB, DGB, GRS, and ERC-20 Tokens, and over 1000coins and tokenswith more being added all the time.Item Includes:1 SecuX V20 Hardware Wallet1 USB cable1 SecuX black pouch2 Recovery sheets1 Quick Start GuideSecuX V20 OverviewFeaturing the worlds most secure, easy to use hardware wallet, V20 put you in charge of your digital assets with its diamond shape aluminum frame and vault-grade security.Aluminum alloy shell design2.8-inch large color touchscreenInfineon SLE Solid Flash CC EAL5+ Secure Element chipTamper-resistant sealing label on device and packagingCross-platform Operation (Windows, MacOS, Linux, ChromeOS, iOS and Android Host Devices)Bluetooth5 and USB Type-C connectionCompliant with BIP-32/39/44 Standard 12, 18 and 24-word phrase wallet recoverySupport 1000+ crypto coins/tokens including all ERC-20/TRC-10/TRC-20 TokensExpandable accounts up to 500 accounts availableBuilt-in 600mAh rechargeable Li-Polymer battery360 Degree All-Around ProtectionFrom concept to product, our team of experts in SecuX inspects all levels of safety and security, to deliver the best quality hardware wallet. Working relentlessly to ensure the prevention of potential risks such as cyber-attack, virus implantation, physical invasion, clone swapping and much more, they implement rigorous production and management in concept design, supply chain, hardware/ software/ firmware engineering and development, and even in user behavior study to achieve an all-around secure, sophisticated and user-friendly device.Military-level Defense TechnologySecuX wallets are equipped with an Infineon SLE solid Flash CC EAL5+* Secure Element chip, which is used to securely store your unique PIN and Private Key. Such vault-grade and military level security enables zero transaction leakage, and surpasses those adopted by banking systems as protection from online attacks. Your transactions are verified without the private key ever leaving the device.* CC: Stands for common criteria for Information Technology Security Evaluation.EAL: The Evaluation Assurance Level is a category ranking assigned to an IT product or system, after a Common Criteria security evaluation.EAL5+: Semi-formally designed and tested with one or more additions to this level rating.24 Recovery Words and PassphraseSecuX hardware wallets generate your unique 24 recovery words and support standard BIP32, BIP39, and BIP44 recovery words of 12, 18 and 24 words. It also provides a 25thword passphrase option to enable the hidden wallet feature.SecuX Crypto ManagerWith your choice of mobile or computer, our SecuX web and mobile app help you manage, send and receive crypto assets, as well as synchronize data from the blockchain network to your wallet, keeping your funds and transactions up to date2.8 Inch Touch ScreenManage your digital assets with ease on our large 2.8 inch touch screen. Browse through your investment portfolio at a glance, and verify transactions with visual confirmationBluetooth and USB ConnectivityConnect via Bluetooth 5 or USB Type-C (V20) anytime anywhere with advanced encrypted standard technology.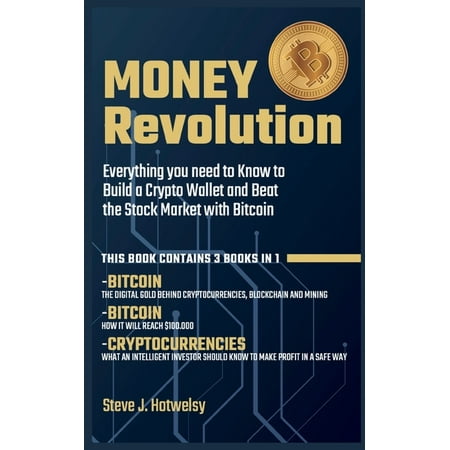 Money Revolution: 3 BOOKS IN ONE! Everything you need to Know to Build a Crypto Wallet and Beat the Stock Market with Bitcoin (Paperback)
35% OFF FOR THE BOOKSTORE! DISCOUNTED RETAIL PRICE NOW AT $ 19,95 !3 BOOKS IN 1 BOX SET: -CRYPTOCURRENCIES: What a smart investor should know to profit safely;-BITCOIN: The Digital Gold Behind Cryptocurrencies, Blockchain and Mining;-BITCOIN: How it will reach $100,000;The cryptocurrency market is constantly growing. Do you want to get your clients to join this financial revolution or do you want to keep them watching others achieve their dreams by becoming billionaires?As of today, there are more than 5,000 traded on the markets. Obviously, the vast majority of these currencies have negligible market capitalization, but the main ones, such as Bitcoin, Ethereum and Ripple, are becoming more and more established realities in the global financial landscape. Suffice it to say that in December, Bitcoin recorded another record: the value exceeded $40 thousand and the capitalization over 700 billion; while the second cryptocurrency in the ranking, Ethereum, is worth 140 billion.You are curious, aren't you? Yet it's the truth, it's no accident that they are considered the new DIGITAL GOLD! If you want to introduce your buyers to all the tricks and advantages of bitcoins, want them to understand how to use them or just let them know what they are, this book will give them all the answers they need. Don't worry, with bitcoins you don't need to have specific skills but you just need to have the right support, adopt the right frame of mind to easily understand and be well informed. Of course, they will also learn what mining and blockchain are and how they work, because they play a key role in this business. Change their mindset from NOW and start getting them invested in THEMSELVES and their STUDY first. Right now its value is very high, but what if it grows even more?-From "CRYPTOCURRENCIES: What a Smart Investor Needs to Know to Profit Safely" THEY WILL LEARN: Every difference between each cryptocurrency; How the Blockchain works; Its predictions for the future;Which currency you should monitor NOW and buy; How not to get scammed;-From "BITCOIN: The Digital Gold Behind Cryptocurrencies, the Blockchain and Mining" THEY WILL LEARN: What Bitcoin is;What the Blockchain is;All about Satoshi Nakamoto;Some numbers;-From "BITCOIN: How it will reach $100,000" THEY WILL LEARN: Why Bitcoin is the currency of the future;What's happening to the economy;How to invest profitably; GET THIS BOOK NOW AND CHANGE YOUR BUYERS' LIVES FOREVER WITH THIS AMAZING GUIDE THEY WON'T BE ABLE TO LIVE WITHOUT!
Software Wallets
Software wallets are stored and accessed digitally which offers the greatest user convenience. The main types of software wallet are listed below.
Web-Based Wallet – are usually hosted on a cryptocurrency exchange such as Coinbase, with the keys being managed by the wallet provider. This is known as hot storage as the wallet is always connected to the internet which allows easy access but also has the potential to be hacked.
Desktop Wallet – A desktop wallet is for PC users to store and manage their keys locally on their hard drive. There are many desktop wallet providers available including MetaMask and Exodus.
Mobile Wallet – Like a desktop wallet but used on mobile devices. They are usually a type of hot wallet as they require an internet connection to work. This can make them less secure than cold wallets but are more user friendly and offer good convenience.
What Is A Crypto Wallet Conclusion
A crypto wallet is essential for anybody that holds, uses or trades cryptocurrency or other digital assets. They are a secure way to store the passkeys needed to access your cryptocurrency stored on the blockchain. It is extremely important to keep your passkeys safe as without them you won't be able to access your assets.
There are several different types of crypto wallet including paper wallet, online wallet and hardware wallets. Each one offers a different trade off between security and convenience.
So if you've been wondering what is a crypto wallet, hopefully this post has helped clear this up.
View more cryptocurrency posts on our blog including these;
Please join our newsletter to ensure you don't miss all our latest quality content.